In general, the independent living, employment, higher education, and community participation rates of Salt River Pima Maricopa Indian Community (SRPMIC) , who were served in special education settings is significantly below their non-disabled peers. The SRPMIC unemployment rate stands at over 50%, or more than six times the state and national averages of 8%. The summer program featured components of the established LDI curriculum scaled down to be delivered in a four week session, with Veronica as Program Lead. By addressing the need for appropriate and accessible services, the award recognized the effective collaborative partnerships between the Salt River Pima Maricopa Indian Community (SRPMIC) and LDI through an emphasis on a community priority to develop and improve local capacity by outreach and collaboration with local entities as well as increasing the SRPMIC's ability to help American Indians with disabilities prepare and obtain gainful employment. This linkage made maximum use of SRPMIC public facilities, as it was based out of the high school on community property, thereby removing many of the pre-existing limitations of trying to source and use services/vendors that consumers could not access. Because the program services were truly "local", consumer participation and involvement increased at all levels of intake, ...
The Emerging Leaders Summer Academy provides an ideal transitional bridge to higher education and career development for high school students entering their senior year or recently graduated young adults with LD, ADHD, NVLD, Asperger's syndrome and similar social or learning difficulties who are seriously considering college. Summer Academy participants are non-traditional learners, who have a broad range of relative academic and personal strengths as well as unique learning styles. The Summer Academy will help prepare them for the next stages of their higher-education and life experiences. A specialized approach to learning through specific strategies designed to harness the potential of each person's learning styles, and how to ask for accommodations in post-secondary settings. LDI Summer Emerging Leaders also have a unique opportunity to learn and practice leadership, diversity and cultural skills usually offered only in the corporate/business community. These skill sets help prepare them for working effectively in team-based settings, group facilitation skills, responsibilities of being a manager, and what it means to "walk the talk" of personal leadership. Successful Emerging Leaders will obtain certification in group facilitation from the National Center for Student Leadership, and two transferable elective college credits in leadership studies through our linkage with Coconino Community College.
Congratulations to Veronica Crawford, LDI President for her selection by the Arizona Department of Education Exceptional Student Services for the 2013 Community Based Transition Provider Award! The award recognizes her outstanding service to students with disabilities in a community setting, and will be presented on September 30, 2013 at Arizona Department of Education Transition Conference located at the Talking Stick Resort.
Worldwide, for most students with specific learning disability (LD), ADHD, Asperger's syndrome (ASD) or mental health conditions considering higher education, ongoing or unrecognized educational difficulties have adversely affected how many view themselves and their opportunities for the future. Difficulties in making major decisions about one's future are a normal part of life, and are not solely applicable to college capable, non-traditional students with learning, attention, or social difficulties. Even with increasing awareness and legislation designed to facilitate inclusion, many find it difficult to identify what institutions and institutional resources are best suited to help advance themselves or how to make a solid, informed choice about such a complex decision. The UN Convention on the Rights of Persons with Disabilities and the European Disability Strategy mirror in many aspects, the Americans with Disabilities Amendment Act (ADAA) as collectively, they are all united through statutory requirements focused on equality of educational and training opportunities for young disabled people in European countries (1 in 6 or 80 million) and the nearly 1 billion school/working age adults worldwide and on measuring/evaluating these outcomes for evidence of county progress towards full education inclusion. Education and training is a very broad area, which can ...
Justin Coller, Manager of Marketing for Life Development Institute & Global Network for Entrepreneurs with Disabilities is an invited partner joining just 100 young men and women who are 18-29 years old from around the world that are professionally involved in the promotion of decent work for youth. Participants will share their experiences and views on the current employment situation and discuss practical examples of successful initiatives which have led to the promotion of decent work for youth. Simplified, decent work would include a position that is permanent, full time, pays a living wage, and has benefits. Click below to read more about Justin Coller's contributions to this important worldwide effort.
This slideshow covers latest data, research, and best practices in programming, services, and transition for young adults in hidden disabilities, such as LD, ADHD, Asperger's, and NLD.
This is a copy of the handout used for an Employee Assistance Program association presentation on what Asperger's looks like in the workplace, strategies to quickly/effectively deal with performance issues related to the condition, and local/national resources for employers to tap into for further help.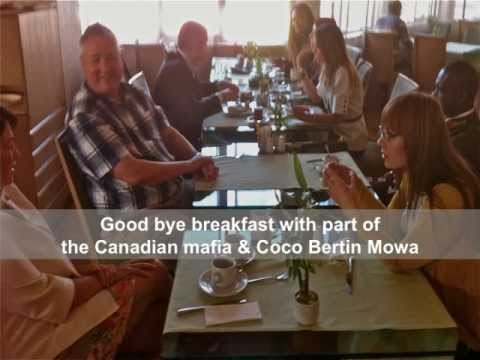 Every now and then, one catches a glimpse of a world where people willingly come together to improve life for individuals with disabilities- and every condition is welcomed & included.
There is such a place in Istanbul, Turkey. I mean, come on! What's not to like when you see a huge billboard of World Disability Union (WDU) President Metin Sentuk welcoming the world when I arrived at the airport??!!
My recent trip to Istanbul, Turkey, as an invited USA delegate to the WDU General Assembly brings me renewed hope for the millions of persons who have learning disabilities, ADHD, Asperger's, TBI or other "hidden disabilities." These are real persons being left behind ; whose needs go unanswered due to not considered being part of the " most significantly disabled."
Delegates came to Istanbul representing 6 continents & 65 countries in order to establish the World Disability Union and a global Congress addressing Universal Design. They left as friends, relatives and colleagues dedicated to our motto "WE KNOW NO BARRIERS!" httpvh://www.youtube.com/watch?v=W4XaXA1B2hs
A series of US Senate hearings chaired by Sen. Tom Harkin of the Health, Education, Labor, and Pensions (HELP) committee is literally reshaping the nature of the debate, recognition, and ultimately, funding of services /benefits for adults with disabilities as well as the aging American workforce. The most recent HELP committee hearing on September 15, 2011, centered on the subject of the "Future of Employment for People with the Most Significant Disabilities", which can be watched through clicking on this link. So, if the Disabled are finally gaining the hard-won recognition of being important enough for our government to do some long-range policy planning,  develop dedicated programs, and commit funding -why the concern over this terminology? From what I have read, watched, and discussed with others of the proceedings- adults, advocates, and families should become familiarized, alarmed, and energized over who is going to be considered disabled enough (channeling my Schindler's List emotions) to get on " The Good List." According to a study published in 2009 on Conducting and Benchmarking Inclusive Employment Policies, Practices, and Culture, because employees with disabilities who become employed face important disparities such as lower pay ...
Open year-round enrollment, accepting applications now!
LDI is a residential young adult program which serves young adults 17 and above who have cognitive, emotional, or neurological conditions such as learning disabilities, ADHD, Asperger's Syndrome, NLD, and other related disorders.

For more information about our school and college program, call us today!