Justin Coller, Manager of Marketing for Life Development Institute & Global Network for Entrepreneurs with Disabilities is an invited partner joining just 100 young men and women who are 18-29 years old from around the world that are professionally involved in the promotion of decent work for youth. Participants will share their experiences and views on the current employment situation and discuss practical examples of successful initiatives which have led to the promotion of decent work for youth. Simplified, decent work would include a position that is permanent, full time, pays a living wage, and has benefits. Click below to read more about Justin Coller's contributions to this important worldwide effort.
This slideshow covers latest data, research, and best practices in programming, services, and transition for young adults in hidden disabilities, such as LD, ADHD, Asperger's, and NLD.
This is a copy of the handout used for an Employee Assistance Program association presentation on what Asperger's looks like in the workplace, strategies to quickly/effectively deal with performance issues related to the condition, and local/national resources for employers to tap into for further help.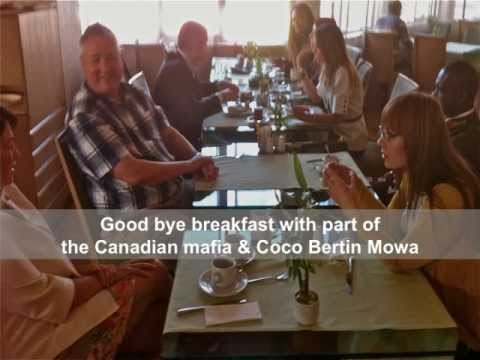 Every now and then, one catches a glimpse of a world where people willingly come together to improve life for individuals with disabilities- and every condition is welcomed & included.
There is such a place in Istanbul, Turkey. I mean, come on! What's not to like when you see a huge billboard of World Disability Union (WDU) President Metin Sentuk welcoming the world when I arrived at the airport??!!
My recent trip to Istanbul, Turkey, as an invited USA delegate to the WDU General Assembly brings me renewed hope for the millions of persons who have learning disabilities, ADHD, Asperger's, TBI or other "hidden disabilities." These are real persons being left behind ; whose needs go unanswered due to not considered being part of the " most significantly disabled."
Twitter Weekly Updates for 2011-10-23 http://t.co/bG4WULFs # Unpacking my bag & brain from World #Disability Union General Assembly in Istanbul 65 countries met committed to …http://twitter@2011wdu.com # Digesting experience of being part of World #Disability Union- 65 countries find common ground 2 ratify Constitution 4 barrier-free world # Put some pictures to share from World Disability Union http://t.co/nXHikokT # World Disability Union General Assembly October 22-23, 2011 http://t.co/GNbkfGQj # World Disability Union General Assembly October 22-23, 2011 http://t.co/8YuHygsR # Buying sugar skulls for Ofrenda to my relatives @Dia de los Muertos http://t.co/mGKQDV13 #
Delegates came to Istanbul representing 6 continents & 65 countries in order to establish the World Disability Union and a global Congress addressing Universal Design. They left as friends, relatives and colleagues dedicated to our motto "WE KNOW NO BARRIERS!" httpvh://www.youtube.com/watch?v=W4XaXA1B2hs
Going to Istanbul in a couple of hours as US delegate for World #Disability Union. Follow tweetfeed @2011wdu. http://t.co/JbpFlAzD # Global Network for #Entrepreneurs with #Disabilties wrote a throughtful post about our work. Thanks for the expression…http://t.co/9mSDHh6z # Made it to Istanbul, but my bag didn't! Please follow @2011wdu # 65 countries, 6 continents meet in Istanbul at World #Disability Union- We Know No Barriers! # Delegations begin to arrive @2011wdu http://t.co/4bBekL67 # Some early accessibility issues for wheelchair users at WDU- conference staff did not make aisles wide enough for them to pass! # Opening remarks from Vodafone Foundation of Turkey welcomes delegates @2011wdu # Enjoying musical performances of virtuosity by Pwd @2011wdu # WDU President Metin Senturk sets the agenda and thanks the @2011wdu team # Building community and sharing lives through common cause @2011wdu # US Ambassador to Turkey shares that 1 billion global citizens live with #disability @2011wdu # US Ambassador ...
Interesting conference in Washington DC on "Race, Ethnicity & Disabilities: State of the Science"-information thru the…http://t.co/khx5uEvN # LDI Tour http://t.co/gpXRo34P # LDI Tour http://t.co/uV0YxkhJ # Student Life at LDI http://t.co/tHBF6QcZ # The White House hosting state-specific calls to discuss the American Jobs Act & FY 2012 budget on October 12-14. Join the Arizona American … # I was able to ask WH rep today how workers with #disabilities are specifically included in the #American Jobs Act. Sho…http://t.co/jXSkOUlT # Experiential Learning http://t.co/Msz0CHtd # Experiential Learning http://t.co/m0K0Titk # White House doing state calls for public input re the American Jobs Act-dates/details on link for your state. Had...: http://t.co/j1idEXuJ #
A series of US Senate hearings chaired by Sen. Tom Harkin of the Health, Education, Labor, and Pensions (HELP) committee is literally reshaping the nature of the debate, recognition, and ultimately, funding of services /benefits for adults with disabilities as well as the aging American workforce. The most recent HELP committee hearing on September 15, 2011, centered on the subject of the "Future of Employment for People with the Most Significant Disabilities", which can be watched through clicking on this link. So, if the Disabled are finally gaining the hard-won recognition of being important enough for our government to do some long-range policy planning,  develop dedicated programs, and commit funding -why the concern over this terminology? From what I have read, watched, and discussed with others of the proceedings- adults, advocates, and families should become familiarized, alarmed, and energized over who is going to be considered disabled enough (channeling my Schindler's List emotions) to get on " The Good List." According to a study published in 2009 on Conducting and Benchmarking Inclusive Employment Policies, Practices, and Culture, because employees with disabilities who become employed face important disparities such as lower pay ...
The growing worldwide recognition of Asperger's Syndrome (AS), Pervasive Developmental Disorder Not-Otherwise-Specified(PDD-NOS) and Non-verbal Learning Disability (NLD) as distinct conditions which persist throughout the lifespan has resulted in an explosion of social media, services and programming aimed at  teens/young adults seeking successful transitions into the community, work, and higher education.  With  this increased recognition,  people with these disabilities should be able to expect to more easily affirm their diagnostic identity among clinicians, and practitioners right? Identity Crisis: Who am I after DSM-V is implemented? The American Psychiatric Association's (APA) publication of the fifth edition of the Diagnostic and Statistical Manual of Mental Disorders (DSM-V) in May, 2013  will render the conditions of Asperger's Syndrome, Pervasive Developmental Disorder Not Otherwise Specified, and Non-verbal Learning Disability as historical footnotes-similar to quaint terms like minimal brain dysfunction and hyperkinesis-since these conditions are not to be included in the newest version. DSM-V is considered and used as the most reliable resource of commonly accepted diagnostic criteria for psychiatric diagnoses among clinicians, insurance companies, educational institutions, and public-funded programs. All interested parties will have an opportunity to weigh in on the proposed changes. The American Psychiatric Association posted the working group's final proposal on all diagnostic criteria  (including ASD) on the diagnostic manual's Web site in January and until June 15, 2011, invite ...
Open year-round enrollment, accepting applications now!
LDI is a residential young adult program which serves young adults 17 and above who have cognitive, emotional, or neurological conditions such as learning disabilities, ADHD, Asperger's Syndrome, NLD, and other related disorders.

For more information about our school and college program, call us today!


Send us your info and we will contact you about our program with no obligation!